POSTSEASON
May 27, 2007
By NATHAN CHAMBERS
BeyondTheDerby.com
High school football coaches should be able to satisfy 22 seniors with playing time, considering that there are 11 positions on the offensive side, 11 positions on the defensive side, and many other positions on special teams.
But a high school lacrosse coach, like Trinity's Pete Schroeder, faces a more combustible situation with 22 seniors on the roster and just 10 positions on the field.
"It's kind of like a high school play," he said. "When you have that many people, not everyone can be the lead. Some are bending nails, putting the set together. Some are handing out playbills. Some are ushering people to their seats. You have a couple leads and a whole lot of worker bees."
Schroeder and the Shamrocks made that show a success this season, which culminated with their fourth consecutive Kentucky Lacrosse Association Boys' High School Division 1 title last Friday - less than 48 hours before the seniors graduated.
"Coaches ask me how I make it work," he said. "The kids are the ones who make it work."
And those kids were willing to make it work because they shared a common goal and wanted to accomplish it with each other.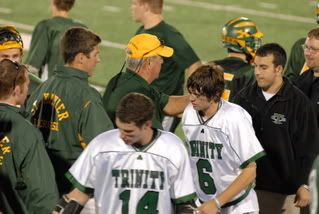 "We really, really wanted it, and we wanted to do it together," said senior attacker Mike Duffy, a two-time All-State selection who has signed with The College of Wooster and will participate in the US Lacrosse National High School Senior Showcase next month. "Most of the starters are seniors, and I've been playing with them for four years. You pretty much know everything about them after all that. They're not only my teammates. They're my closest friends, and that makes it even better. "
After the team's alumni game on Monday, Schroeder hinted at one of the reasons the seniors felt so strongly about it when he noted that the KLA title has resided at Trinity for nearly 1,100 days. They didn't want to be the class that let it get away.
"If we didn't win it, our four years would have been incomplete," said senior Tm Williamson, an All-State defenseman who will continue playing at Washington and Jefferson College. "We owed it to the coaches, to the alumni, to the school, and to the rest of our teammates."
They also owed it to themselves.
"This one feels like it actually is ours," said senior midfielder David Thompson, who is pictured (No. 14) with Duffy (No. 6) above (photo by Tom Windham). "This is our legacy."
"I can leave with no regrets," Duffy said.
The seniors, in alphabetical order, are: defenseman Alex Bracksieck, defenseman Andrew Bruenderman, midfielder Jay Buschmeyer, goalie Greg Donahue, attacker Mike Duffy (captain), midfielder Alex Edelen, midfielder Alex Fallot, midfielder Tim George, midfielder Kyle Hallion, defenseman Rob Maurer, attacker Sean Medley, midfielder Brennan Morrison, midfielder Matt Penta, attacker Walker Price, defenseman Andrew Purdie, midfielder Zach Taylor, midfielder David Thompson (captain), defenseman Alex Vestal, midfielder Dan Weber, midfielder David Wheatley, and defenseman Tim Williamson (captain).
With so many seniors, the juniors didn't get much playing time - particularly in KLA games. Schroeder offered them an anecdote near the end of his talk to the team after the alumni game, recalling that he was a backup goalie in both soccer and lacrosse when he was a junior in high school. He eventually played lacrosse collegiately at Kutztown University.
"Keep working," Schroeder said to the juniors. "This is your team now."