VOLLEYBALL
July 14, 2007
By NATHAN CHAMBERS
BeyondTheDerby.com
The Kentucky Indiana Volleyball Academy's premier 14-and-under team completed a remarkable midsummer sweep when it won its division at the recent USA Junior Olympic Girls' Volleyball Championships in Minneapolis.
KIVA 14 Red beat Team Z 14 Orange (Camp Dennison, Ohio) 25-18, 25-17 in the 14 Open Gold Division final on July 2, just 16 days after winning the 14 Open title at the AAU Girls' Junior National Championships in Orlando, Fla.
Six of the team's players - Michelle Greene, Natalie Keck, Jacqueline Napper, Jaclyn Ohlmann, Laura Purcell, and Courtney Robison - accomplished the same feat with KIVA 13 Red last year. KIVA founder Ron Kordes coached both teams.
The MidAmerica Volleyball Association also won a Junior Olympic championship when MAVA 13 Elite prevailed in the 13 American Gold Division on July 3, beating Celtic Force 13 Green (Palos Heights, Ill.) 25-16, 25-20 in the final. MAVA founder Glenn Pike coached the team.
KIVA 17 Red fared the best among the other entries from Louisville's two clubs, reaching the 17 Open Gold Division final before losing to Team Z 17 Orange 30-28, 21-25, 25-20, 25-19 on July 8. It had won the 17 Open title at the AAU event. Sloane Donhoff, Kaitlynn James, and Stephanie Riley were named to the All-Tournament team from KIVA 17 Red, and Alli O'Connor joined them from fifth-place MAVA 17 Elite.
Casey Garvey was named to the 16 Open All-Tournament team from fifth-place MAVA 16 Elite, and Deja McClendon was named to the 15 Open All-Tournament team from fifth-place KIVA 15 Red.
KIVA 14 Red
(clockwise, from bottom) Stephanie Trautwein, Natalie Keck, Katelyn Sherrard, Courtney Robison, Michelle Greene, Jacqueline Napper, Laura Purcell, Jaclyn Ohlmann, Jenni Houser, Claire Gerwig, (center) Coach Ron Kordes. (Vicky Greene photo)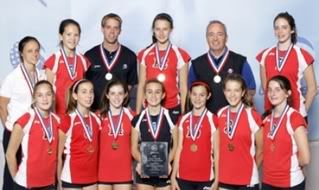 MAVA 13 Elite
(front row, from left) Andi Nichol, Monica McGreal, Amanda Crask, Paige Stewart, Meredith Ashy, Megan Lipski, Annie Adams, (back row, from left) Assistant Coach Becky Wilson, Sarah Katz, Assistant Coach Todd Garvey, Dallas Zimmerman, Head Coach Glenn Pike, Brittany Lenihan. (USA Volleyball photo)