RODES CITY RUN
March 17, 2007
By NATHAN CHAMBERS
BeyondTheDerby.com
Jamie King-O'Shea changed her strategy in the second leg of the Louisville Triple Crown of Running, but the outcome was the same as in the first.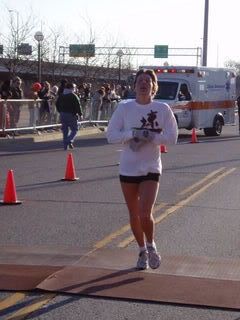 She won.
King O'Shea, who waited until the last kilometer to move into the lead in the Anthem 5K Fitness Classic two weeks ago, pushed to the front of the women's field within the first three kilometers in the Rodes City Run on Saturday and left her challengers in the dust.
She finished the 10-kilometer race in 35:26 - more than a minute ahead of 2005 Rodes City Run winner Bonita Paul.
"I knew I'd have a target on my back from the other weekend," King-O'Shea (pictured at right) said. "So I wanted to take a different approach and just go."
She didn't divulge the approach she wants to take in the Papa John's 10 Miler, the final leg in the Triple Crown, on March 31. But her objective is obvious. She wants to win again and become the first Triple Crown champion since Susie Bush in 2004.
"I would say so, yeah," she said, smiling.
A resident of Richmond, Ky., the 31-year-old King-O'Shea was a four-time All-American and 16-time Ohio Valley Conference champion at Eastern Kentucky University. She placed third in both the 2003 Papa John's 10 Miler and the 2005 Anthem 5K in her only previous Triple Crown races.
"I've been doing a lot of distance work since I started back running," said King-O'Shea, who broke a toe in December and wore a boot cast into January. "I hope it goes well in the 10 Miler."
Paul has won the Papa John's 10 Miler each of the last two years and likely will be King-O'Shea's top challenger. But she hasn't been running as well recently, and she wasn't satisfied with her 36:28 time on Saturday.
"I'm disappointed," said Paul, a former Western Kentucky University star who still lives in Bowling Green. "I should have been running under 36:00. Hopefully I'll compete better in the 10 Miler. I really don't have any excuses. It was just one of those days."
Former Bellarmine University standout Jen Alessandro (pictured below with race director Fred Teale) placed third in 36:35 on Saturday and sounded much more pleased than Paul.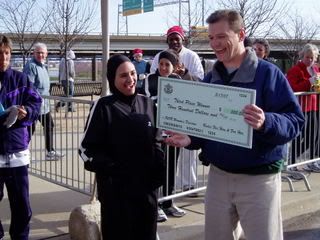 "I was hoping to be in the top five," she said. "I got a speeding ticket this week, and I knew if I did that I could pay off the ticket."
Alessandro, who was half-joking, really didn't need such motivation in this race; she was fifth last year and has emerged as Louisville's best female runner in local road races up to 10 kilometers.
She's not as confident at 10 miles and isn't sure if she'll run in the Papa John's 10 Miler. But she seems to be rooting for King-O'Shea already.
"I think it would be exciting to have someone win the Triple Crown," she said.
Indianapolis resident Lucie Sulewski was fourth in 36:57, and Louisville resident Natalie Postel was fifth in 39:26.