RODES CITY RUN
March 17, 2007
By NATHAN CHAMBERS
BeyondTheDerby.com
When Fishers, Ind., resident Chris Swisher won the Anthem 5K Fitness Classic two weeks ago, he didn't know that he would return to Louisville for the Rodes City Run on Saturday as he trained for the USA Outdoor Track and Field Championships.
"It was kind of up in the air then," he said. "But I started planning the next month, and I thought it would be a good chance to come back down here."
He made it worth the drive back down I-65.
Facing another strong men's field in the second leg of the Louisville Triple Crown of Running, Swisher broke from the pack near the four-mile mark and distanced himself from any challengers to win the 10-kilometer race in 30:32.
"I felt pretty strong, although not as good as a couple weeks ago," said Swisher, who won the Anthem 5K in record time. "This was quite a bit longer. It was a challenge for me."
The 24-year-old Swisher, who was an All-American at Miami (Ohio) University, would become the first male Triple Crown champion since James Mutuse in 2002 if he decides to run even farther in the Papa John's 10 Miler on March 31 and wins it. But he has other plans; he intends to run in the 5K at the Stanford Invitational the same weekend.
Grand Rapids, Mich., resident Kyle Baker, who placed third in the Anthem 5K, also was a late entry in the Rodes City Run. He pushed Swisher the most and finished second in 30:47. Indianapolis resident Abdelaziz Atmani was third in 30:53.
"(Baker) was the hardest one to get off my back," Swisher said. "He's a marathon-type guy, and I'm a 5K guy. I worried about getting distance on him."
Baker is more likely to run in the Papa John's 10 Miler, and he would be the favorite if he did. In the USA Men's 10 Mile Championship, which the Papa John's 10 Miler hosted the last four years, Baker placed 11th in 2006 and 17th in 2005.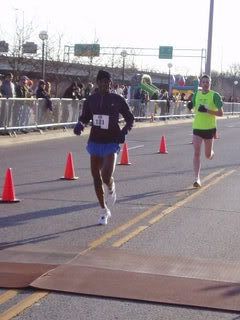 Mutuse, who had won four of the last five Rodes City Runs, finished fourth in 30:57 after passing 2006 Anthem 5K winner Wes Alkin in the last 200 meters (the two are pictured at right). He's looking forward to the Papa John's 10 Miler, where he was the top Kentuckian each of the last two years; he was 13th in 2006 and 18th in 2005, not far behind Baker in either race.
"It's going to be fun," Mutuse said.
Alkin, a University of Louisville graduate student and assistant coach, held on to fifth and finished in 30:58. He had been the top seed until Swisher and Baker added their names.
"I didn't know who was going to show up," Alkin said. "It could have been me and Mutuse, or it could have been us and 20 other guys. I just wanted to break 31:00, and that's what I did."