PAPA JOHN'S 10 MILER
March 31, 2007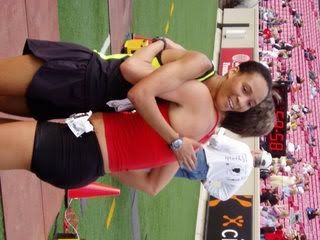 By NATHAN CHAMBERS
BeyondTheDerby.com
Jamie King-O'Shea looked much more exhausted than Bonita Paul and Heather May after the three women crossed the finish line inside Papa John's Cardinal Stadium on Saturday.
King-O'Shea (pictured, on the right) hugged Paul and then staggered to the concrete wall under the stadium's first row of seats, where she slumped to the ground as Paul and May stood together and chatted.
But if winning the Louisville Triple Crown of Running championship was easy, more people would have done it in the 24-year history of the series. King-O'Shea had to work hard to become the 11th.
A 31-year-old Richmond, Ky., resident and mother of three young children, the remarkable King-O'Shea cut loose from Paul near the nine-mile mark and reached the end of the Papa John's 10 Miler ahead of every other woman in the race to complete the first Triple Crown sweep since 2004.
Paul, who had won the race each of the last two years, finished second. May was third.
"It's a great accomplishment," admitted King-O'Shea, who won the Anthem 5K Fitness Classic on March 3 and the Rodes City Run on March 17. "I'm very excited. I feel like I'm back."
She was one of Eastern Kentucky University's all-time best runners, a 16-time Ohio Valley Conference champion and a four-time All-American from 1994-99. She also placed ninth in the 1,500 meters at the 2000 U.S. Olympic Team Trials.
But she gave birth to three kids between March 2002 and November 2005, and she broke her right big toe last December and had to wear a cast for six weeks.
"She's amazing," said Paul, a 27-year-old former Western Kentucky University star who had placed third in the Anthem 5K and second in the Rodes City Run. "She's a mom with three kids, and she's been kicking my butt each time."
Former Triple Crown winner James Mutuse, who finished second overall behind Kyle Baker on Saturday, ran at EKU after O'Shea graduated but still lives in Richmond and knows her well.
"She's a tough competitor," he said. "I wish I was like her. I'm proud of her."
King O'Shea, who was third in both the 2003 Papa John's 10 Miler and the 2005 Anthem 5K in her only other Triple Crown appearances, battled Paul for most of the race.
"I would surge, and then she would surge," King O'Shea said. "It was back and forth the whole way. At the end, it came down to who could pull away from who. The last time I surged, I felt her losing it a bit, and I broke her. But I still didn't feel like it was mine until I turned into (the stadium). She was very competitive out there. She ran a great race."
King O'Shea finished in 59 minutes, 36 seconds. Paul followed 17 seconds later.
"It's not my greatest race, but I'm happy," Paul said. "It was my best of the three this month."
May, a 36-year-old Bloomington, Ind., resident who runs for the Indiana Invaders, was another 19 seconds back in her Triple Crown debut. Her teammate, Erin Nehus, placed fourth in 1:02:35, and former Manual High School star Melissa Massey was fifth in 1:03:00.
"I've been dying to come to this race in particular," May said. "My preferred range is 10 miles to a marathon, and I've heard great things about this race for years. This was just the first time it fit in well with my training."