KENTUCKY DERBY FESTIVAL RACES
APRIL 28, 2007
By NATHAN CHAMBERS
BeyondTheDerby.com
During an interview earlier in the week, Matt Downin playfully mentioned the "old man Downin" reference in BeyondTheDerby.com's story about the Anthem 5K Fitness Classic on March 3.
Recall that Downin, who turned 30 on Feb. 10, had been the favorite to win the first leg of the Louisville Triple Crown of Running. But he couldn't match the late kick of 2006 Miami (Ohio) University graduate Chris Swisher, who won in record time.
The 24-year-old Swisher then underscored their age difference after the race when he confessed that he knew little at all about Downin, who was an All-American at the University of Wisconsin, has won two individual titles at the USATF Club Cross Country Championships, placed 11th at the 2005 ING New York City Marathon, and has qualified for the 2008 Olympic Marathon Trials.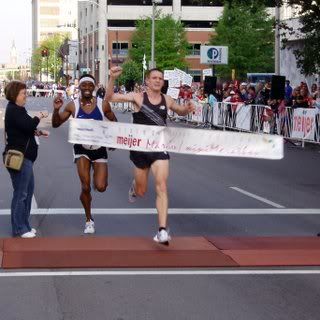 Fast forward to the 34th annual Kentucky Derby Festival miniMarathon on Saturday. Downin (pictured, on the right) and 32-year-old Henry Dennis (pictured, on the left), a friend and training partner from the Wisconsin Runner Racing Team, rounded the corner from Seventh Street to Market Street together and sprinted down the last block to the end of the 13.1-mile race.
Downin had the stronger kick this time and reached the finish line a step ahead of Dennis, which prompted an obvious question from the same reporter. Was that the speed he was missing in the Anthem 5K?
Downin smiled and helpfully noted that Swisher, unlike Dennis, is "a young guy."
"Henry and I are old guys," Downin said. "We've been doing this a long time, and we're not blessed with a lot of foot speed anymore."
All joking aside, Downin was delighted to win the miniMarathon for the second year in a row. A record 9,685 people registered for the race and a record 8,251 finished it; also, a record 11,269 people registered for the event overall.
"Winning in this sport is something that doesn't happen very often," he said. "Defending a win is doubly hard. So to come back to a big event like this and defend a title is really cool. It's the best feeling you can have in the sport."
Downin finished the race in 1 hour, 7 minutes, 29 seconds; Dennis, who ran without his assigned ChampionChip, was given the same official time. Downin won by a much larger margin - 1:25 - last year.
As expected, they and WRRT teammate Matt Hooley swept the top three spots; Hooley was third in 1:07:35. Bowling Green, Ky., resident Jef Scott was fourth in 1:09:04, and Louisville's Justin Banks (pictured below) was fifth in 1:09:28.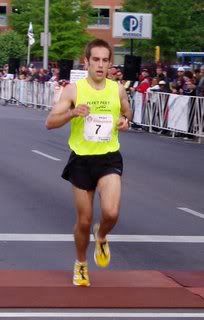 Cincinnati resident PJ Ball was the women's winner in the miniMarathon. She finished in 1:23:41. Louisville's Jill Bickel was second in 1:24:14.
Downin, Dennis, and Hooley ran as a group for almost the entire race, which was the plan.
"We decided to work together most of the way and then see what happens at the end," said Hooley, a 24-year-old Wisconsin graduate student who ran at Carleton College.
Downin and Dennis separated from Hooley in the last mile. Dennis moved in front of Downin before the final turn onto Market Street, but Downin charged back.
"He made a little move with about a quarter of a mile to go," Downin said. "We took the turn, and I thought I had a shot at reeling him in. And I did."
All three runners raced in the USA Men's 10 Mile Championship when it was part of the Papa John's 10 Miler, the third leg of the Triple Crown. Dennis was ninth in 2003 and sixth in 2004; Downin was fifth in 2005; and Downin and Hooley were 30th and 32nd, respectively, in the hot and humid conditions last year.
"A lot of this course is the same as the Papa John's course, and I was happy to be in familiar territory out there," Dennis said.
But he particularly liked the miniMarathon's special twist, a lap around the Churchill Downs infield.
"I had never been in there before," he said. "A week from now, when it's jam-packed, it'll be nice to watch on TV and say I was there."
The 28-year-old Ball only ran in the miniMarathon because she will be attending a wedding next Sunday, the same day as her big hometown race, the Flying Pig Marathon.
"I'm really surprised I won," she said. "It's the last thing I expected to do."
That might sound strange, coming from someone who won the Flying Pig Marathon in 2004. But the former University of Cincinnati runner is slowly working her way back from two stress fractures in her left foot that have kept her out of marathons since then. She previously ran in the Columbus (Ohio) Marathon in 2001, the Flying Pig Marathon in 2002, and the Boston Marathon in 2003.
"I want to get back to marathons and be competitive in them again," she said.