KENTUCKY DERBY FESTIVAL RACES
APRIL 28, 2007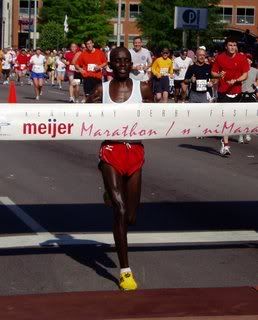 By NATHAN CHAMBERS
BeyondTheDerby.com
Charles Njeru Kamindo and Jamie King-O'Shea toed the Kentucky Derby Festival Marathon start line on Southern Parkway as winners on Saturday.
Kamindo was the four-time defending Marathon champion, and King-O'Shea was the reigning Louisville Triple Crown of Running champion.
In this race, however, winning became an afterthought for both of them.
Kamindo said that four gunmen carjacked him and his family near his hometown of Nakuru, Kenya, last Dec. 21, and that frightening incident understandably damaged his competitive mindset. He didn't break 2 hours, 23 minutes at either the Miami Marathon or the Georgia Marathon in the months since.
So Kamindo was more than satisfied to place second behind 19-year-old countryman Onesmus Nyerere (pictured above) on Saturday, when he shaved more than four minutes off those previous 2007 times. Nyerere won in 2:18:23, and Kamindo was next in 2:19.
"I'm very happy," said the 26-year-old Kamindo, who trains in Boulder, Colo. "This is a very hard course. I'm proud of myself."
King O'Shea, a Richmond, Ky, resident who was a four-time All-American at Eastern Kentucky University, struggled to finish the 26.2 miles at all.
She placed second behind Eileen Combs (pictured below) in the women's division but was immediately carried on a stretcher to an on-site medical tent on Market Street, where she was treated for dehydration. She was released 30 minutes later with her husband at her side, and she said she was OK.
Combs, a former University of Louisville runner who moved to Schenectady, N.Y., two years ago, had not run in a Kentucky Derby Festival race since she won the miniMarathon in 2003.
"It's a great feeling to come back," said Combs, who lived in Louisville for eight years. "All week I've been visiting friends, co-workers, family. To top it all off like this is great."
Combs, who wants to qualify for the 2008 Olympic Marathon Trials, finished the race in 2:50:19. King-O'Shea's time was 3:00:33, and Raleigh, N.C., resident Ashley Seaton was third in 3:03:55.
Medina, Ohio, resident Jeff Fisher won the wheelchair division in 2:04:13.