TENNIS
June 7, 2007
By NATHAN CHAMBERS
BeyondTheDerby.com
Eric Quigley and Emily Carbone reaffirmed their positions as Kentucky's best junior tennis players on Thursday.
Quigley successfully defended his Boys 18 Singles title and Carbone won the Girls 18 Singles title on the final day of the Joe Creason Kentucky State Qualifier at E.P. "Tom" Sawyer State Park.
Quigley, a Pewee Valley resident who will be a senior at South Oldham, has won the singles title at the Kentucky High School Athletic Association State Tennis Championships each of the last three years and has been ranked in the top four of the USTA Southern Section's Boys 18 division since October. He swept Bowling Green resident Robert Hall 6-2, 6-2 on Thursday.
Carbone, who will be a senior at Lexington Christian, won the KHSAA singles title on May 26 and is ranked fifth in the USTA Southern Section's Girls 18 division. She rallied to beat Prospect resident and North Oldham junior-to-be Lauren Kline 3-6, 6-2, 6-1 on Thursday. They had won the Girls 18 Doubles title together on Tuesday.
The surprise of the day was Paul Dunbar sophomore-to-be Kathryn Hays, who already was the surprise of the tournament. The unseeded Hays had upset the fourth and fifth seeds in the Girls 16 Singles division and trumped those wins with a 6-1, 4-6, 6-1 victory over third-seeded Louisville resident Kelly Hollingsworth in the final.
"I think she outlasted me in the heat," said Hollingsworth, a Male sophomore-to-be who already has played in three KHSAA State Tennis Championships. "She was more consistent and more patient."
Hollingsworth was playing in the Girls 16 division for the first time.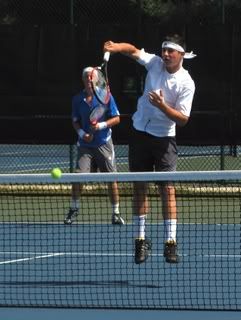 "I was really pleased with the way it turned out," she said. "I didn't expect to make it to the finals in my first year."
Third-seeded Louisville resident Aaron Wicker, who will be a junior at St. Xavier, repeated as the Boys 16 Singles champion when he beat fourth-seeded Lexington Christian junior-to-be Colby Shaw 7-6(6), 6-4 in the final.
Wicker also won the Boys 16 Doubles title with Prospect resident Maks Gold (pictured at right, with Wicker in the background). The top-seeded tandem recovered from a first-set loss to defeat second-seeded Lexington residents Grant Roberts and Dean Tsamas 2-6, 6-2, 6-3.
Lexington Christian teammates Elle Coldiron and McKinley Mason, the fourth-seeded team in the Girls 16 Doubles division, also rallied in the final and beat Lone Oak sisters Hannah and Katie Hagan 6-7(2), 6-4, 6-0.
Four other finals were played on Thursday:
In the Boys 14 Singles final, top-seeded Louisville resident Brett Johnson beat second-seeded Richmond resident Zack Lewis 6-4, 6-4.
In the Boys 12 Singles final, top-seeded Louisville resident Collier Bouchillon beat second-seeded Louisville resident Sean Donohue 6-2, 6-3.
In the Girls 14 Singles final, top-seeded Lexington resident Samantha Maddox beat second-seeded Danville resident Cece Witten 6-3, 2-6, 7-5.
In the Girls 12 Singles final, top-seeded Lexington resident Juliana Cardi beat second-seeded Ashland resident Kennedy Womack 6-1, 6-0.
Complete draws are available on the tournament's Web site. The tournament qualifies players for the Southern Closed Championships.