PAPA JOHN'S 10 MILER
March 29, 2007
By NATHAN CHAMBERS
BeyondTheDerby.com
Jamie King-O'Shea wants to become the next champion of the Louisville Triple Crown of Running, and she's confident that she can do it in the Papa John's 10 Miler on Saturday.
"I think I have a good chance to win," said King-O'Shea, a 31-year-old Richmond, Ky., resident who triumphed in the Anthem 5K Fitness Classic on March 3 and the Rodes City Run 10K on March 17. "I'm very happy with where I am."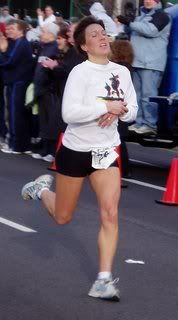 Even race representatives are rooting for her.
"We'd love to have a Triple Crown winner," said Rodes City Run director Fred Teale, who operates louisvilletriplecrown.com.
But King-O'Shea (pictured at left) offers a caveat, noting that she finished the 2005 Anthem 5K with a better time than she posted in that race earlier this month and still placed third. Roanoke, Va., resident Trish Nervo won it; she hadn't run in the Triple Crown before that day and hasn't run in the Triple Crown since.
"You never know who is going to pop in and out of these races," King-O'Shea remarked.
Funny she should say that.
Didn't King-O'Shea look just like one of those runners - you know, the sort that pops in and out - when she arrived at the Anthem 5K start line four weeks ago?
She popped into Louisville for the 2003 Papa John's 10 Miler, placed third, and then popped right out. She popped back into town for the 2005 Anthem 5K and popped right back out. She didn't pop in again until this month.
It's not that she didn't want to run in any other races. In fact, she entered the 2005 Anthem 5K with the intention not only to complete the Triple Crown but also to take on the Kentucky Derby Festival Marathon.
But a scheduling conflict kept her out of the Rodes City Run, and, the day before the Papa John's 10 Miler, she learned that she was pregnant – for the third time in less than four years.
So it's no wonder that she's been popping in and out. And it's no wonder that she feels a lot older than the 20-somethings chasing her on the road.
"I guess I can look at it like I'm more experienced," King-O'Shea said, laughing. "I've been through a little more than they've been through. Giving birth to a child isn't easy, and I've done that a few times now."
She didn't mention her more pertinent experience that truly sets her apart on the course, although that might be assumed. At Eastern Kentucky University, where she earned two degrees between 1994 and 1999, the Ohio native was a 16-time Ohio Valley Conference champion and a four-time All-American. After college, she qualified for the 1,500 meters at the 2000 U.S. Olympic Team Trials and placed ninth in the final.
Her career slowed down after she married Ken O'Shea, who also was an OVC champion at EKU. Their first child was born in March 2002, their second followed in February 2004, and their third joined the family in November 2005.
She was prepared to return to the indoor circuit this past winter when a much less welcome happenstance interrupted her in December. She accidentally kicked a table in her home, broke her right big toe in three places, and wore a cast for six weeks.
"That messed up the whole season," she said. "Coming back, I didn't know where to go. I thought I'd just try to do the Triple Crown and see where it goes."
And here she is. King-O'Shea – a wife, a mother of three, a part-time school bus monitor, and one heck of a runner – is poised to become the 11th person to win all three Triple Crown races in the 24-year history of the series.
"I'd definitely like to do it.," she said. "The last couple races have given me a lot of confidence that I'm back as a runner. But that really would say, 'She is back.' I'd be excited."
Is she not back already?