ANTHEM 5K FITNESS CLASSIC
March 3, 2007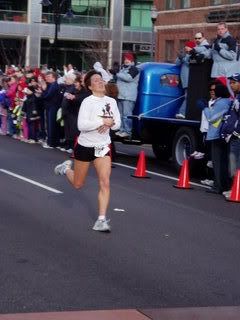 By NATHAN CHAMBERS
BeyondTheDerby.com
Only one person has won all three races in the Louisville Triple Crown of Running since 2002, but Richmond, Ky., resident Jamie King-O'Shea will try to change that in the coming weeks.
Considering that she broke a toe in December, had a boot cast removed in January, and won the women's title in the Anthem 5K Fitness Classic on the first Saturday in March, it's hard to count her out.
The 31-year-old King-O'Shea (pictured at left), who was a four-time All-American and 16-time Ohio Valley Conference champion at Eastern Kentucky University, stalked the leaders for much of the race through downtown and then moved to the front in the final kilometer on Main Street. She reached the finish line outside Louisville Slugger Field first in 16:57.
In her only other Triple Crown appearances, King-O'Shea placed third in both the 2005 Anthem 5K and the 2003 Papa John's 10 Miler. She has not run in the Rodes City Run 10K, which will continue the series on March 17. The Papa John's 10 Miler will conclude it on March 31.
"I really was just coming in here to see where I was," she said. "I wanted to break 17:10, and I did. I'm going to run in the other two races in the Triple Crown, and we'll see how those two go. I've never run in all three."
Erin Nehus placed second in 17:00 and was one of two runners from the Indiana Invaders team in the top five; the other, Julia Rudd, was fourth in 17:24. Another Hoosier, Lucie Sulewski, was fifth in 17:42.
Bowling Green's Bonita Paul, a former Western Kentucky University star who is recovering from a knee injury incurred several weeks ago, was the only other Kentuckian in the top five; she was third in 17:20.
Paul, actually has finished in the top four in each of the last 10 Triple Crown races. She narrowly missed the Triple Crown championship in 2005, when she placed second in the Anthem 5K and then won both the Rodes City Run 10K and the Papa John's 10 Miler. She also won the Kentucky Derby Festival miniMarathon that year and the Papa John's 10 Miler last year.
"I did OK today," she said. "I've had some injuries recently, and I've been struggling with that. But It's getting better now."
Louisville's Jen Alessandro, a former Bellarmine University star, was sixth in 17:49. She was the runner-up a year ago.