ANTHEM 5K FITNESS CLASSIC
March 3, 2007
By NATHAN CHAMBERS
BeyondTheDerby.com
If the Anthem 5K Fitness Classic was a small pond, Matt Downin was the big fish in it on Saturday.
He runs for New Balance, the official shoe sponsor of the race. The company flew the 30-year-old Madison, Wis., resident into town, and he arrived with a reputation that's remarkable for the first leg in the Louisville Triple Crown of Running.
Downin has won the individual title at the USA Track and Field National Club Cross Country Championships twice, including last December. He also won the Kentucky Derby Festival miniMarathon last year. In 2005, he was 11th in the ING New York City Marathon and fifth in the USA Men's 10 Mile National Championship in Louisville.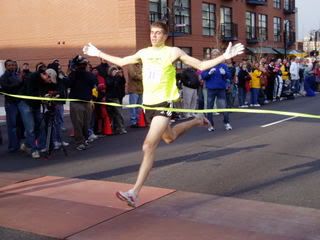 But Chris Swisher (pictured at right) just graduated from Miami (Ohio) University last year and didn't know much about old man Downin before he drove here from Fishers, Ind., and chatted with some Louisville-based acquaintances who run for Fleet Feet Sports.
"I had heard of him. That's about it," Swisher said. "But when I got here, they all were talking about him. He's a very well-respected runner."
Swisher, who is targeting the USA Outdoor Track and Field Championships in June, probably left with a little respect of his own as he took another step into the national picture. He out-kicked Downin along Main Street and crossed the finish line in front of Louisville Slugger Field in 14:24, an Anthem 5K record. Nic Crider's mark of 14:38 had stood since the first Anthem 5K in 2004.
"He's a good runner, a very good runner," said Downin, who followed Swisher in 14:29. "Even if I had done things a little differently, I don't think it would have made a difference. He probably could have run 15 seconds faster than he did. He took control with about a mile to go, and I was content to let him have the lead because I hoped to out-kick him. But he made a great move, and I couldn't match him."
Swisher, who won the 1,600 meters at the 2001 Indiana High School Athletic Association Track and Field State Finals when he was a senior at Milan, got married last summer and then didn't race for several months. He returned to action in Fast Freddie's Festive Five-Mile Foot Feast in New Albany, of all places, last Thanksgiving; he won easily, of course.
"This was a good time to test where my fitness is at," he said. "This is a flat and fast race, and it felt good."
Swisher and Downin were not the only out-of-state runners at the front. In fact, no Kentuckians finished in the top five. So perhaps the Anthem 5K is not a small pond anymore.
Kyle Baker, a Grand Rapids, Mich., resident who was 11th in the USA Men's 10 Mile Championship last year, placed third in 14:40. Hunter Spencer, who was an All-American at the University of Kentucky and now runs for the Indiana Invaders, was fourth in 14:45. Teammate Abdelaziz Atmani was fifth in 14:49.
Defending Anthem 5K champion Wes Alkin, a 25-year-old University of Louisville graduate student and assistant coach, was the first Kentucky resident to finish; he was sixth in 14:54. A former University of Arkansas star, Alkin has battled health issues over the last two years and is trying to regain the form that once had him ranked in the top 25 in the world at this distance.
"It was nice to get out there and face a good, competitive field," he said. "But I still have a ways to go."
Richmond, Ky., resident James Mutuse, who won the Triple Crown in 2002, placed seventh in 15:06.