ANTHEM 5K FITNESS CLASSIC
March 3, 2007
By NATHAN CHAMBERS
BeyondTheDerby.com
Stacy Cohen didn't win any prize money in the Anthem 5K Fitness Classic on Saturday, but that didn't seem to bother her at all.
"I finished, right?" she said, smiling.
Indeed, she did. Cohen placed 2,385th in 28 minutes, 37 seconds. Nearly 4,000 more people followed her across the finish line outside Louisville Slugger Field over the next 44 minutes. Each had a reason to run or walk five kilometers on this cold, snowy morning, and only a few of them ever considered winning.
After all, the events in the Louisville Triple Crown of Running are not merely road races. They're social gatherings. They're charitable fundraisers. They're physical fitness goals. They're fears to conquer.
Take Cohen, a 36-year-old nurse who works for Anthem Blue Cross and Blue Shield of Kentucky. In 2002, she was told that her cholesterol was too high. So she started running, and she has been a Triple Crown regular ever since.
Along the way, she took her employer's stated mission and made it her own with ROAM (Runners On A Mission), a club she established in January 2005 to help people "achieve personal fitness through cardiovascular exercise."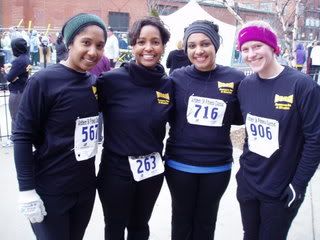 Since it was founded, ROAM has participated in all seven Triple Crown races and both Kentucky Derby Festival mini/Marathons. Cohen said that 29 runners and 29 walkers - including (pictured at left, with Cohen second from left) Carmen Mathis, Poorna Ramakrishnan, and Meghan Workman - were in the Anthem 5K on Saturday.
"I really love the first-time runners and walkers, people who thought they never could do it," said Cohen, who was named one of Kentuckiana Healthy Woman Magazine's SuperWomen in 2006. "It's very rewarding when they cross the finish line."
Varinka Barbini is a more competitive runner. The 26-year-old Lexington, Ky., police officer ran for Marshall University, now runs for the Kentucky National Guard Marathon Team, and has finished near the front in several recent races in Louisville. She won the Hangover Classic 10 Mile on Jan. 1 and placed second in the Snowman Shuffle 4 Mile on Jan. 20.
She was 12th in the Anthem 5K, but the backpack slung over her shoulders hinted at a greater concern. It had a picture of a 4-year-old boy, Bryce Riley. Barbini explained that he is the son of a fellow officer and has leukemia.
So she is trying to raise money for the Riley family. She pulled in $66 at the Strawberry Plains Half Marathon in Knoxville, Tenn., on Feb. 17, and she will continue running for more through November. The Community Trust Bank in Lexington has an account in Bryce's name for donations. E-mail her at vbarbini@lfucg.com.
"I want to raise at least $500," she said. "I'd love to do more - but at least that much."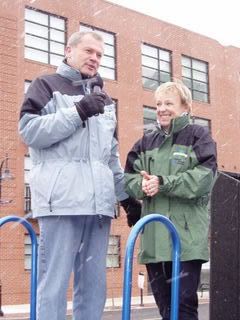 As the leader of Team Crusade, WHAS-TV reporter Kirby Adams (pictured at right with WLKY-TV's Fred Cowgill) knows a little about fundraising. Team Crusade's runners and walkers have raised many tens of thousands of dollars for the WHAS Crusade for Children in the last 11 years.
One Team Crusade veteran is a 12-year-old East Oldham Middle School student,. Kami Orrender. She raised more than $15,000 over the previous four years and, according to her Web site, raised another $5,335 this year alone. She also is one of the best middle school runners in Kentucky and won the 14-and-under age division in the Anthem 5K.
"I've got a picture from her on my desk," Adams said. "It says, 'Kirby, you're my hero.' Are you kidding? She's mine."